Achieving True Equality &
Full Inclusion In The Workplace
Mission Driven. Evidence Based. Results Focused.
Equity and Inclusion Services
Evaluations. Interventions. Solutions.
We are passionate and deeply experienced professionals and researchers with the knowledge and skills to accelerate full inclusion and real equity.
We Saw a Big Problem
The massive body of scientific evidence on creating true equity and inclusion is dense, complex, and hard to interpret without deep expertise. We noticed that, as a result, too many well intended D&I trainers and consultants misinterpret or misapply the evidence. At best these efforts have no effect and at worst they do harm.
Lack of Genuine Diversity
Creating real diversity, inclusion, and equity is a tricky challenge and common-sense ideas often do not work. As a result, many current approaches fail — and often may make things worse.
We Had to Act
We are a team of equity and inclusion scientists who have partnered with experienced D&I organizational leaders. We recognize that creating just, equitable and fully inclusive environments is essential to organizational effectiveness and ultimately organizational survival.
Bridging the Divide
The key organizational characteristics that create a truly positive diversity climate can be achieved, but the path is complex and not always straightforward. Using scientific findings and proven methodologies, we translate the evidence into positive action with real impact.
This Is Important
Achieving real inclusion and equity is imperative — and we all need to get it right. Leveraging the strongest evidence and most effective tools is the best strategy to reaching D&I goals.
How We Do It
We partner with you to provide a supportive, evidence-based, data-driven and strengths-based approach to achieving your diversity, equity and inclusion goals. We offer both comprehensive wrap-around services and freestanding services including assessment and audit, capacity-building through training and learning experiences, and coaching and consulting.
Full Inclusion Is Crucial to Organizations and Their Members
Inclusion and diversity drive innovation and growth. Yet achieving full inclusion is complex. Most commonly used approaches do not work and can even make things worse. We make things better.
Everyone can reach their full potential
Everyone is proud of their diverse identities and strengths
The organization reaps the full benefit of diverse skills and strengths.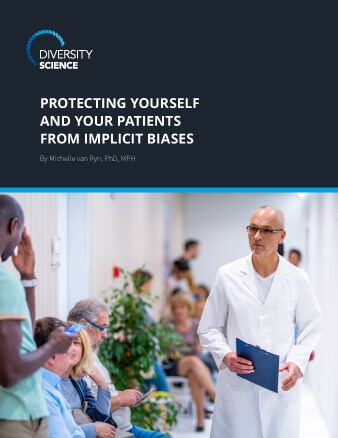 DOWNLOAD FREE WHITE PAPER
Protecting Yourself and Your Patients
from Implicit Biases
How can you prevent implicit biases from negatively impacting the level of care patients receive? Discover the latest research on how D&I training helps healthcare providers deliver more attentive, effective care.
Latest Insights & Analysis from Our Blog
Let's get the conversation started.
Questions? Interested in learning more how equity and inclusion can benefit your company? Schedule a no obligation consultation by filling out the form below.