Dignity in Pregnancy and Childbirth Course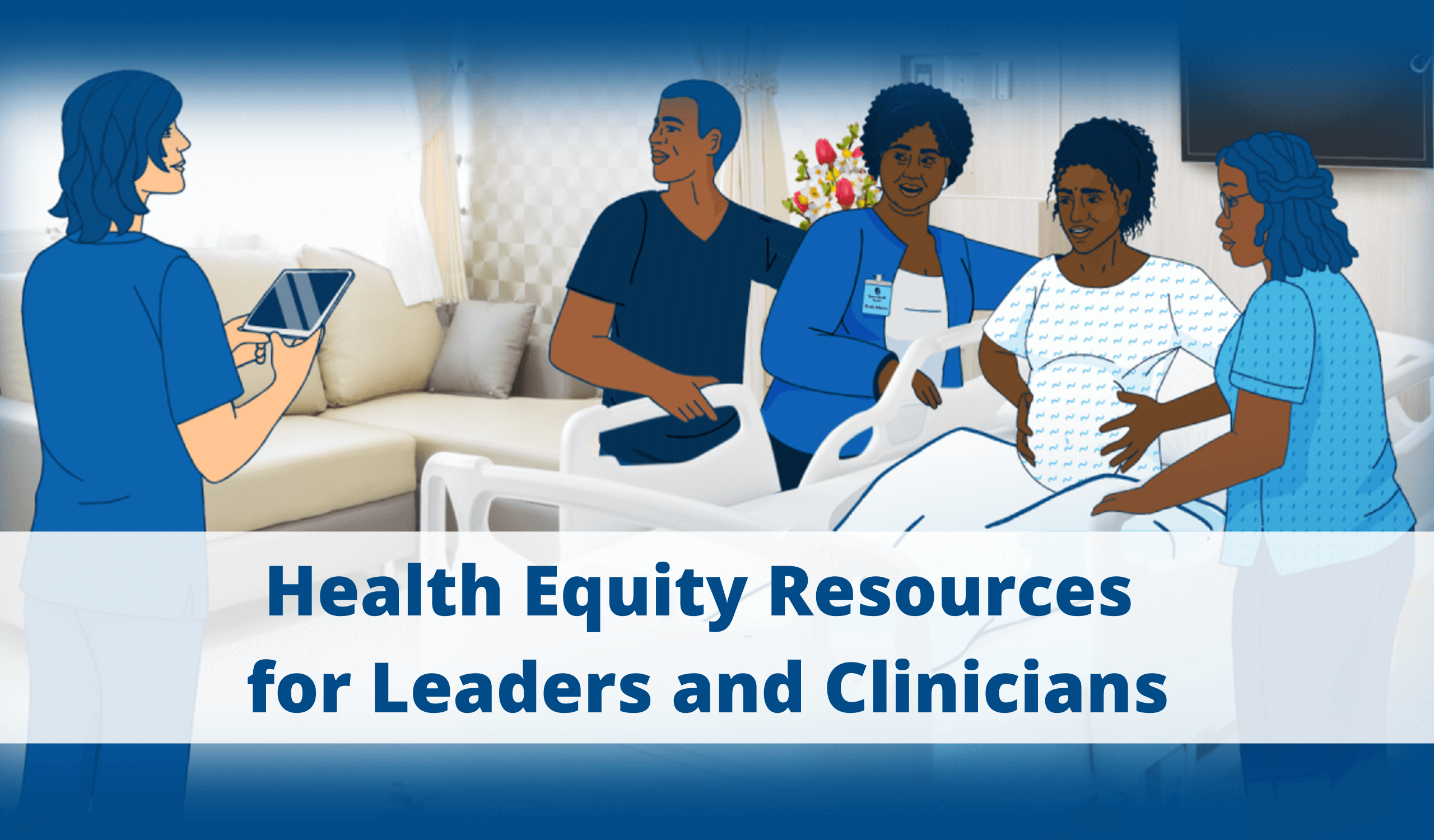 Resources to Advance Health Equity
A set of resources for leaders and clinicians to advance health equity in their clinical practice and organizational strategy. [Leader resources coming June 2021]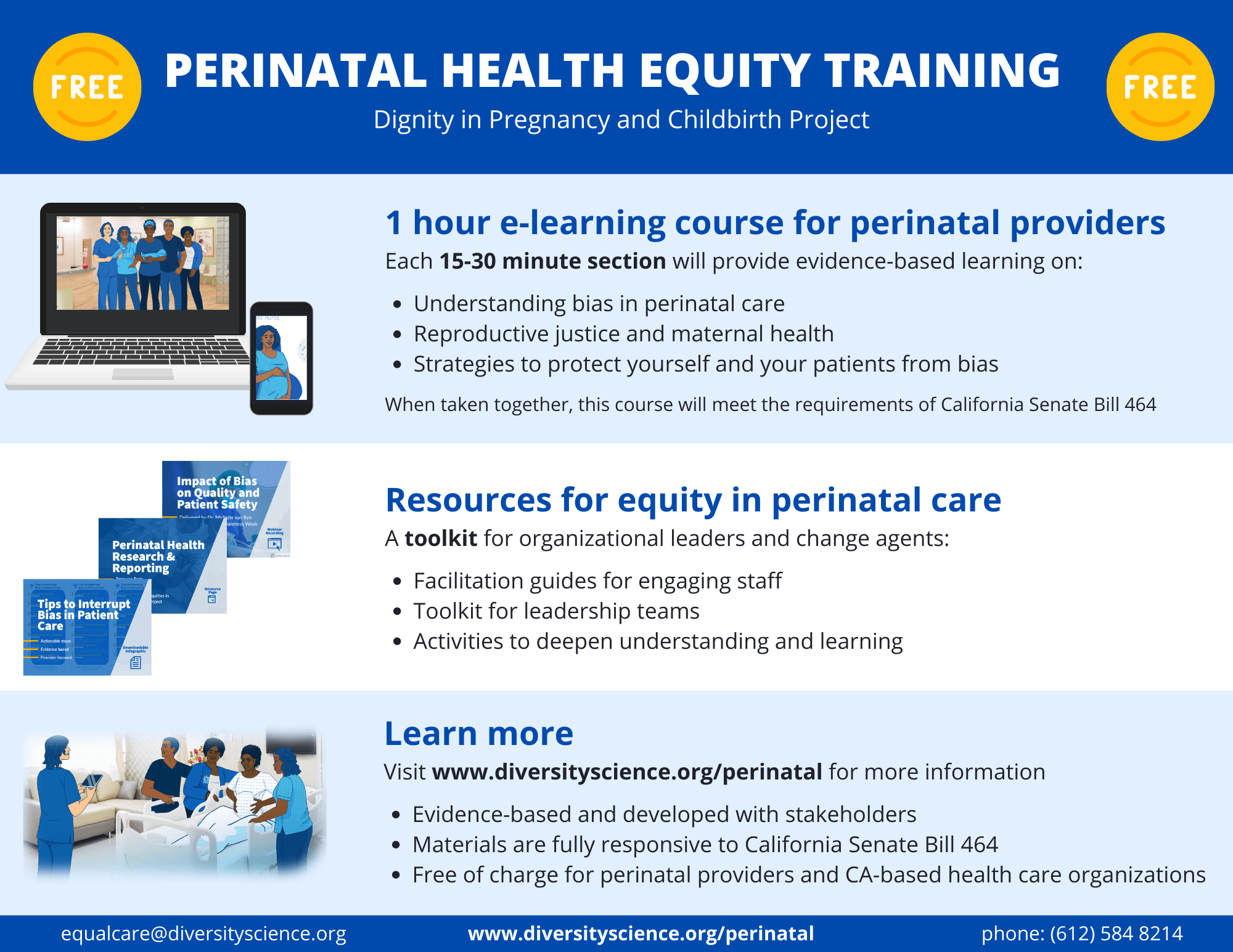 Course Information Flyer
A one page summary of the course and project resources for you and your colleagues.
Frequently Asked Questions
Get answers to common questions
What resources will be available?
Three types of resources are available:
An online training course that will empower perinatal care providers through 1) Deeper insight into the ways structural racism and implicit racial biases undermine the quality of perinatal care, 2) Specific, feasible, evidence-based strategies for providing high quality, respectful and patient-centered care to Black patients and 3) Tools for protecting their patients from the impact of racism. This course will be approximately 60 minutes in length and composed of three parts.
Downloadable print resources with essential information and recommended actions for organizational leaders.
Downloadable print resources for internal trainers and change agents.
How can individuals complete the e-Learning?
Individuals will have free open access on Diversity Science Academy. They will receive a printable Certificate of Completion and an email documenting their achievement. This option is open to anyone, anywhere.
How can organizations provide e-Learning to their staff?
Organizations that have an existing LMS for e-learning delivery may prefer to access the e-Learning modules in SCORM (Shareable Content Object Reference Model) and xAPI formats. These formats are compatible with the vast majority of LMS. After signing a user agreement (the organization will not charge for access to the e-learning nor will they use any part of the e-learning in a product for sale).
This option is free to any organization that provides perinatal care
Organizations may wish their employees complete the E-Learning experience on the diversityscienceacademy.org learning platform.


How Will We Track Completion/Document Compliance?


There are two options:
i) Ask employees to self-register and, after successful completion of the course, provide you with a copy of their printable electronic Certificate of Completion.
ii) You may prefer to work with us to register and track your employees' completion. In this option, we provide completion reports or you designate a course manager (from your organization) to monitor completion (or both).
How will stakeholders be included?
We are committed to the inclusion of all interested stakeholders and perspectives. Rather than use traditional approaches for stakeholder engagement that include some but exclude others, we will provide open access to all interested stakeholders to review objectives and content and provide either public or private feedback. The more common approach (e.g., advisory groups) inevitably limits inclusion. This approach encourages any individual or group that self-identifies as having a stake in this project to have an opportunity for participation.
How much time will the e-Learning training modules take?
The entire online training course will take around 60 minutes. Following best practices, the 60 minutes will be broken up into three parts, each 15-30 minutes each. We acknowledge that a 60-minute training is insufficient, on its own, to overcome structural racism. These e-Learning modules are understood to be a starting point from which deeper organizational and systems change can build. As with all our
learning experiences
, we will focus on strategies to inspire motivation for and interest in deeper learning and change.
How will these learning modules make a difference?
Through this training, healthcare professionals have the opportunity to deepen their understanding of the impact of structural racism on the health and healthcare of Black patients. They will learn strategies to interrupt institutional racism and racial bias and protect the health and well-being of Black mothers and birthing people.
The learning modules will also serve as a starting point for many organizations in addressing health equity and structural racism organizationally. A common knowledge base and language can serve as common ground for future dialogue, advocacy, training, capacity building, and policy changes that will ultimately create the institutional change needed to improve the health and well being of all patients, especially Black mothers and birthing people.
How can I get more information?
Signup for our mailing list! You will receive project updates, or visit our stakeholder resource page. You can contact the project team at: [email protected].
Stay Updated!
Join our list to receive project updates and notices about when resources become available
CONTACT US
Diversity Science is here to help you